Research Facilities
A major asset of the MBRS SCORE Program is its shared resources which enhance and facilitate research efforts. MBRS SCORE participants have access to:
3130 Genetic Analizer (Sequencer and computer)


ICycler Thermal Cycler for Real Time PCR (and Computer)


GeneAmp PCR System 2700


Eppendorf Model 5415D Microcentrifuge with Rotor


Mini-Sub Cell GT PowerPac Basic System 100/120V


Barnstead/Thermoline 17600 Dri-Bath


VersaFluorTM Fluorometer 100/220V


Mini sudgel GT Bio Rad, for agarose gels.



VersaDoc Imaging System from Bio Rad, with Quantity One software (equipment and computer)


FisherBiotech Photodocumentation Handheld Camera


Standard Mini-Vortex Mixer


Vacufuge Concentrator with Pump Model 5301


FisherBiotech Ultraviolet Transilluminator


Ohaus Adventurer Series Top-loading Balance AV-510


Stirrer/Hot Plate 5x7 120V


Adjustable Volume Eppendorf Series 2000 Pipetors: 0.5-10ml, 2-20ml, 10-100ml, and 50-200 ml


Technical Support by Melissa Serrano is also available for Core Facilities.


These resources are accessible to investigators in all areas of research in the Medical Sciences Campus.

3130 Genetic Analyzer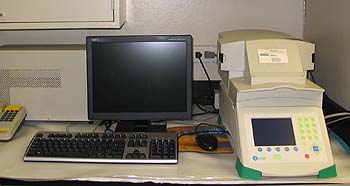 ICycler Thermal Cycler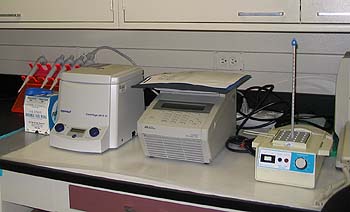 Other Lab Equipment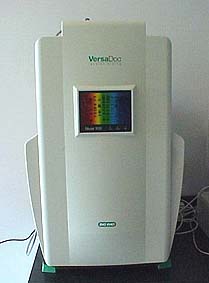 VersaDoc Imaging System from Bio Rad, with Quantity One software (equipment and computer)
Room: Jorge Miranda, Ph.D laboratory, A668